Styling Bangles – The Ultimate Guide to Wearing Bangle Bracelets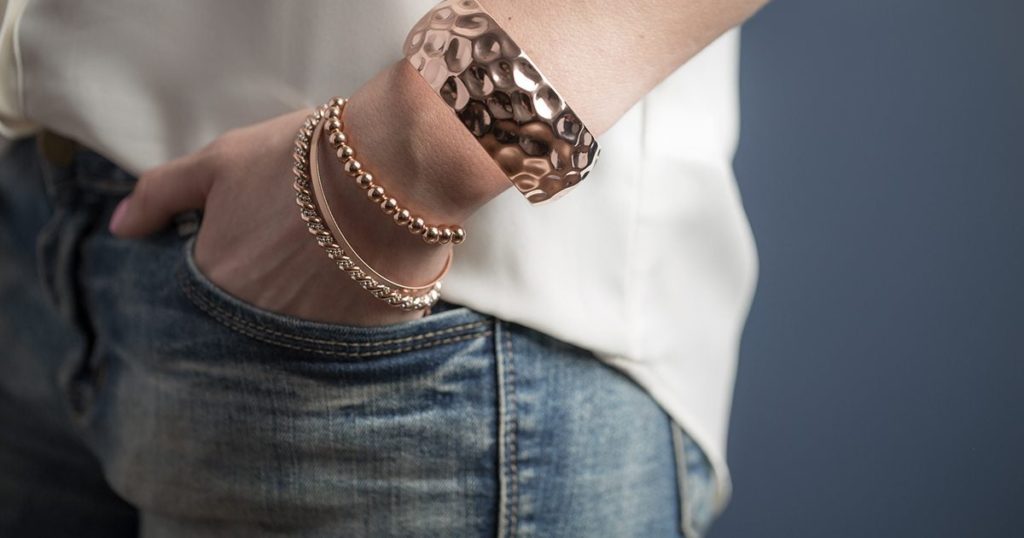 Bangles are some o the most popular ornaments for women. These are fashion accessories that were worn in early civilization and remain a fashion staple to date. Regardless of your style, you can always spruce things up with bangles. They blend with a wide range of outfits and are readily available in the beauty and fashion market. Because of the versatility in the bangles market, you can always be sure that you will find something to suit your style and preference.
Bangles come in all shapes and sizes. For you to be able to use them effectively for your style, you must learn how to style them well. Here are timely fashion tips that will make accessorizing with our bangles a breeze.
Always pick an appropriate bangle
A common mistake made when wearing bangles is choosing the wrong ones. For you to impress with your bangles styling ideas, you need to consider factors such as your skin tone and the bangle size.
For people with warm skin tones, they should consider bronze or gold bangles. If you have a cool skin tone, you can go for bright silver bangles for women. For people with neutral skin tones, they are at liberty to accessorize with any metal that suits them best.
In terms of size, always go for large bungles. They minimize the size of your wrist and elongate your fingers.
Mix things up
The best way to pull a unique style look with bangles is to avoid going for a monotonous look. For bangles, you can mix up different designs, bangle textiles, and colors. Unlike other jewelry accessories, a monotonous color or look is not ideal when it comes to bangles. It ends up looking boring, and bangles should never be boring.
Wearing bangles in different color tones, metals, and design will attract attention to your outfit. If you want to wear your statement bracelet, you can mix it up with other bangles of high quality, as this is guaranteed to turn heads for all the right reasons.
Pick the right outfit
When it comes to accessories, one of the hardest parts is finding the appropriate outfit to go together. Silver, gold, and even bronze bangles have a charm that should be allowed to shine through your outfit. A good way of picking your outfits when accessorizing with bangles is going for three-quarter shirts and coats, or short-sleeved tops. Silver blends well with cooler or bright colors, while gold can be styled with almost any outfit. For instance, when wearing an all-black outfit, you can break the color monotony by wearing a silver or gold statement bangle.
Stacking bangles for a chic look
The fun part about bangles is the fact that you can wear as many of them as you like without feeling like your style look if overdone. This is why some bangle sellers sell them in a set of multiple bangles. These are carefully selected to ensure they can go together if you need to wear several at a go. Therefore, do not be afraid to stack your bangles. The stacked look goes well with casual attire like an ensemble of jeans and a girly top.
Add pearly accents for elegance
When styling your outfits with bangles, there is no limit to the number of looks you can achieve. If you are looking for an elegant style, consider accessorizing with pearly bangles. Gemstones and pearls tune-up your bungle style to give you a sleek finish. For more glamour, silver bracelets with beautiful stone decoration will help you to achieve this look.
Go bohemian for the summer
Next time the summer season approaches, ensure you have the right bangles for the season. The bohemian summer style is a style you must try in our lifetime. To achieve the bohemian bangle style, your bangles should comprise of neutral, earthy colors. This style is ideal if you like animal inspired, symbolic look for your accessories. The bohemian style allows you to stack up as many bangles as you want.
With this guide, styling your bangles will be much easier.